Our Junior Herdsire here at Windchimes Farm, "Dallas Cowboy" is a 15 hand Jack. He has good bone but is not coarse. Straight legs with width to his chest and a short pretty head. Shiny tight black haircoat with brilliant white points. Good tough feet. Siring correct donkeys that were made to be used successfully as sound, goodmoving saddle and driving animals.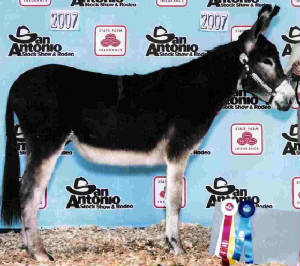 This is a great addition to our selection of quality Jacks - "Monogram" is a deep shade of red, with extremely square, sturdy conformation. He has a small head, a big eye, a short back and straight legged. And an unbelievable long mane and tail, looks more like a horse mane and tail than any donkey I've ever seen! He won his halter class at the San Antonion Livestock Show Donkey & Mule Show in '07 and was named Reserve Grand Champion Jack there. He also was Reserve High Point Halter Donkey for the Gulf Coast Donkey Mule Association Year End awards 2007. He exemplifies the modern Saddle type mammoth donkey - good temperament, lots of forwardness and energy, and sound ahtletic conformation.
"Silverado" by Amarillo Slim - therefore a direct grandson of JenJack. Out of "Little Miss Sunshine", a dappled grey jennet with good conformation and a great mind for training - she is smart-smart and easily broke to saddle, loves attention, an easy keeper, no health or hoof issues. Silverado" is a #1 Performance type Mammoth Jack and has athleticism, looks, refinement, bloodlines. As a young jack, we will breed a few jennies in '09 and he will go on to saddle/driving training in his three year old year - will be hauled and shown enough to prove that he has what it takes to make a quality Jack for our proram. Mind, athleticism, soundness is what it takes to "make" our program as a Mammoth Jackstock sire.