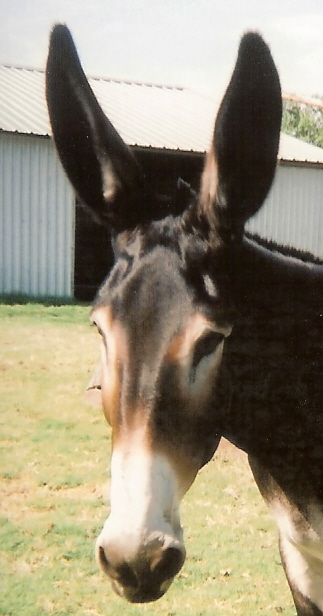 Welcome to Donkeys at Windchimes Farm
We have enjoyed spending the last twenty years putting together a group of Mammoth Donkeys that are pretty, wonderful dispositions & excellent conformation, forward moving and highly trainable.
Our donkeys include an own son of JenJack, a NASMA and ADMS Nat'l Champion Performance and Halter Donkey, the Grand Champion Jennet at the prestigious Missouri State Fair, a beautiful Jennet bred by the late Dr. Tex Taylor Bramoth Farm and offspring of the excellent jackstock listed above.
We are to the point in our breeding program that we can offer breeding stock and especially happy to be able to offer trained performance donkeys and young show prospects for sale. We are proud of our program and look forward to visiting with you about our DONKEYS from Windchimes Farm.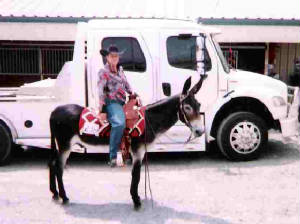 We have four American Mammoth Jackstock Donkey sires here, including "Amarillo Slim", an own son of the renowned JenJack. Our Junior Herd Sire is "Silverado" a beautiful Grey SaddleType Jack by "Amarillo Slim" with impeccable conformation and disposition. You can see more about our Jacks by clicking on the link above left. ***************************************************************** Home of Sterling Mammoth Jackstock - beautiful silver grey Donkeys!! *********************************************************************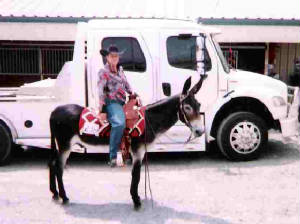 "I Wanna Be A Rockstar" was the NASMA 2009 World Champion Reined Working Donkey at the Great Celebration Show in Shelbyville, Tennessee. Also won the Donkeymanship for us!

He was the ADMS (American Donkey and Mule Society) National Champion Amateur Donkey in September '09! Also placed against mules in the Hunter Under Saddle Class...

Reserve Western Pleasure Donkey at Bishop Mule Days May 2010! I love this guy!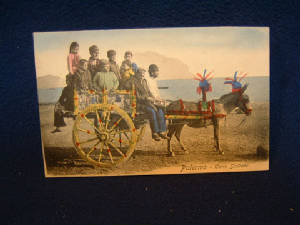 Donkeys are some of our oldest domesticated animals...they have been used throughout history for many different needs and as companions. I have included on this website some Longears art and photos for you to enjoy.
We have left up some of the webpages of donkeys that have gone on to new homes so that you can get a better idea of the type of donkeys we raise and train here. Also, on some of our general information pages, we have included photos of some of the nice donkeys that we have sold over the years.

Remember, we do this out of a passion for raising and training these unique animals. We think donkeys and mules deserve respect and appreciation for what they have done for the human, as a servant and more importantly as a companion... We are thankful to be a part of this neat longear journey and thrilled that we can offer some nice animals to the public.
Members of:

Southwestern Donkey & Mule Society
Gulf Coast Donkey & Mule Association
American Mule Association
American Donkey & Mule Society
American Quarter Horse Association
American Society for Protection of Cruelty to Animals
Society for Protection of Cruelty to Animals - Texas
Texas and Southwestern Cattleraisers Association
American Rare Breeds Conservancy
We been a member of most of these organizations since the 1970's, serving as Volunteers, Directors, Members of the Show Committee, Sponsors and Contestants.
James & Lisa Fergason
Equines by Design - Donkeys at Windchimes Farm
7563 Lois Road W
Sanger, Texas 76266
940-367-6216 (ranch cellphone)
our e-mail is:
mulemaven@aol.com